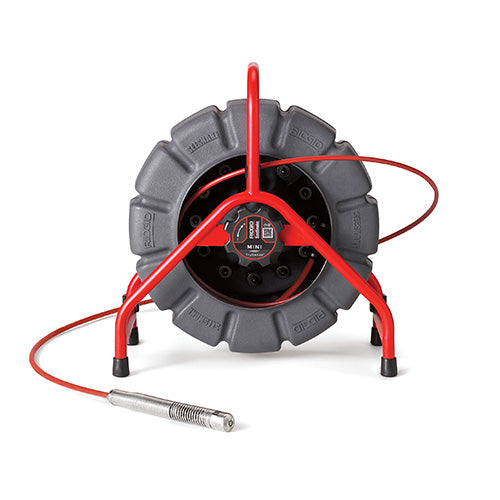 RIDGID Seesnake 200' Mini 30mm SL TruSense Color Reel
The RIDGID 63633 SeeSnake Mini Camera Reel with TruSense Technology, 200 ft. Push Cable and 30mm Fixed Camera Head, is a portable camera reel in the SeeSnake family of premier diagnostic systems. The Mini reel packs ruggedness and versatility into a small frame, making it a great all-around camera for a range of pipe sizes. TruSense technology provides a high dynamic range (HDR) image sensor and a TiltSense inclinometer for SeeSnake CSx series Wi-Fi enabled monitors (sold separately).
The 63633 SeeSnake Mini Camera Reel features an HDR image sensor, which offers bright, clear in-pipe imaging in difficult lighting conditions. TiltSense displays the camera's pitch in a pipe on a connected SeeSnake CSx series monitor (sold separately). Down pipe visibility is vastly improved with HDR, giving more clearly defined detail of pipe characteristics. Rugged, high-intensity LEDs allow for exceptional viewing and long life with the Mini reel. The powerful FleXmitter sonde has long range and preserves the camera's ability to make turns.
The Mini reel is ideal for inspecting 1.5 to 8 in. (38 to 203 mm) lines and comes with a 200 ft. (61 m) push cable. The push cable is reinforced with fiberglass and flexible enough to travel through sharp 90° bends, yet stiff enough to push the camera head long distances.
The FleXmitter sonde helps locate points of interest in the pipe. FleXmitter sondes have long, powerful antennas capable of putting out a signal strong enough to pinpoint the camera's location underground, while still preserving its flexibility through turns.
Product Features:
For inspecting 1.5 in. to 8 in. lines up to 200 ft.
Offers both ruggedness and versatility in a small frame
Helps users to diagnose and locate problems in drain and sewer systems
Equipped with TruSense technology:

Data-enabled camera head communicates with a connected CSx series Wi-Fi enabled monitor (sold separately)
HDR image sensor offers bright, clear in-pipe imaging in difficult lighting conditions
TiltSense data sensor indicates camera's angle as it lays inside the pipe

Stiff 200 ft. push cable ideal for long runs, particularly in larger pipes with fewer turns
Rugged, high-intensity LEDs provide exceptional viewing and long life
Powerful FleXmitter sonde has long range and preserves camera's ability to make turns
Suitable for use with any SeeSnake monitor or recorder (available separately)
Molded, rust-resistant drum captures debris to keep job site clean
Specifications:
Line Capacity: 1.5 in. to 8 in.
Maximum Run: 200 ft.
Sonde: 512 Hz
Weight: 24.5 lbs.
Reel Frame Diameter: 20 in.
Camera Diameter: 1.18 in.
Camera Length: 1.68 in.
Push Cable Diameter: 0.31 in.
Push Cable Length: 200 ft.
Operating Temperature: -4˚ to 104˚F (-20˚ to 40˚C)
Waterproof Depth: 330 ft.
Video Resolution: 656 x 492 NTSC