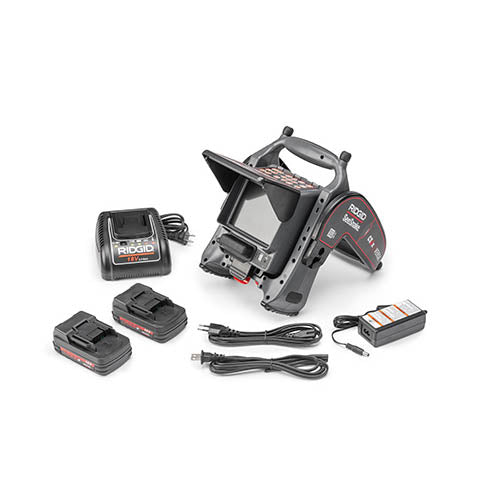 RIDGID SeeSnake CS6x VERSA Digital Recording Monitor with Wi-Fi Connectivity
The RIDGID 64968 SeeSnake CS6x VERSA Digital Recording Monitor with Wi-Fi Connectivity, Batteries and Battery Charger is an ergonomic, all-in-one solution for capturing media and delivering inspection results to your customers. The CS6x Versa is compatible with all SeeSnake camera reels (sold separately), and it docks onto Compact series reels for convenient viewing, transport, and storage. A quick-release mount lets the monitor be placed in a high or low viewing position, while the unique pivoting frame lets users tilt the monitor to the desired angle for optimal viewing efficiency. This design allows the sunshade to remain open in all usage situations for maximum glare reduction.
The CS6x Versa captures images and video directly to a USB drive. Professional multimedia reports are automatically created while you work, increasing your productivity and helping you move on to the next job.
Download HQx Live, the free iOS or Android companion app, to use your mobile device as a second screen. Using the CS6x Versa's built-in Wi-Fi, pair a smartphone or tablet to the CS6x Versa to provide uninterrupted, high-quality video streaming directly on the device, letting you show your customers the inspection in real-time. HQx Live also lets you capture media from a paired device.
SeeSnake HQ software streamlines critical and routine updates which help improve and prolong the life of your equipment. HQ also gives you the ability to manage jobs and generate reports for customers. The included 8 GB USB drive comes with HQ preloaded.
Product Features:
Versatile pivoting frame allows monitor to stand in high or low positions for optimal viewing
Compatible with all SeeSnake camera reels (sold separately) as a freestanding monitor
Docks onto Compact series camera reels (sold separately) for efficient transport and storage
Integrated Wi-Fi streams and records inspections to iOS or Android device with HQx Live app
Images and videos can be directly downloaded to a USB drive
Daylight viewable 5.7" display provides crisp, clear in-pipe image
Water-resistant keypad gives direct control of camera and monitor functions
Operates on one 18 V battery or with AC power adapter
Durable design with improved ingress protection against dust and moisture
Sunshade can remain open in all usage situations for maximum glare reduction